Microgreens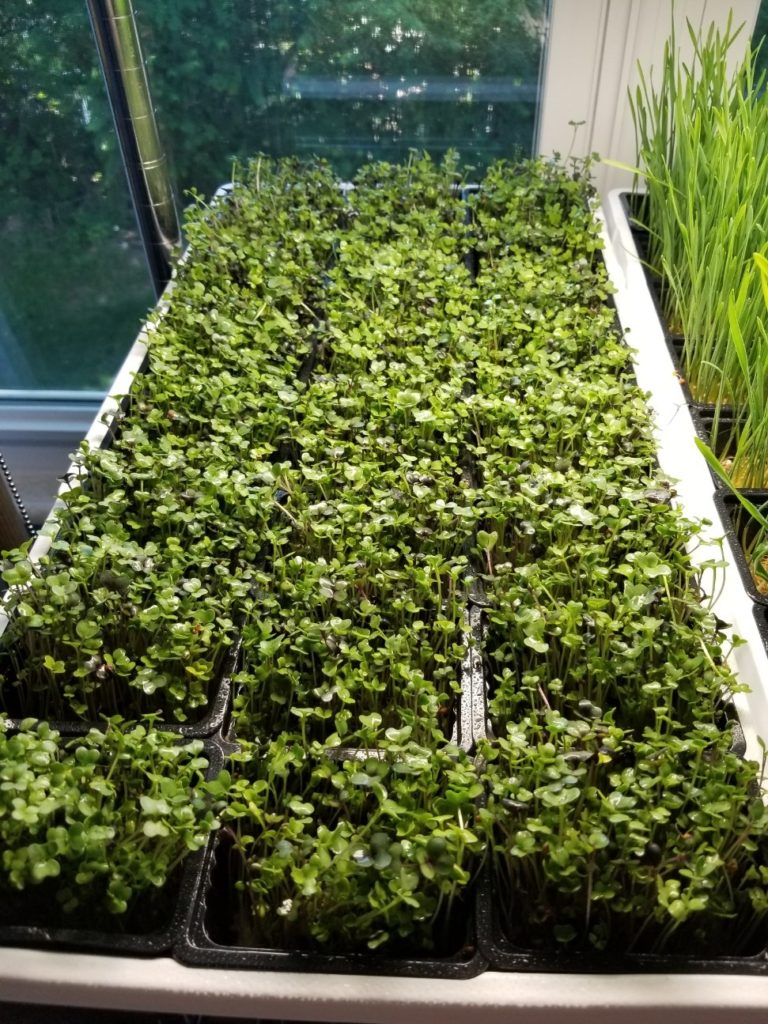 Hi! I'm Chef Ryan and I offer a variety of microgreens. All my microgreens are grown hydroponically using organic substrate, nutrients and seeds. I want to be your primary supplier for microgreens! I grow for both personal consumption and for restaurants/wholesale.
As a Chef I care about the quality of my produce. I will only grow high quality produce. I will not sell produce that does not meet my Chef standards.
To place a commercial or personal order please call me (Chef Ryan) directly 720-388-4063.
What are Microgreens?
Microgreens are the stage of plant development between a sprout and a baby plant. In this stage they are full of intense flavor and intense concentrations of nutrients. Some microgreens can have 100 times as much nutrients as the adult plants. In short microgreens are the first health food that actually tastes amazing. Its the best of both worlds!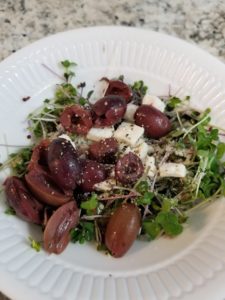 You can add microgreens to everyday items like sandwiches, salads, fried rice, etc to add a pop of extra nutrition and delicious freshness to anything! Or you can create meals specifically with microgreens in mind, like a mixed microgreen salad with olives and feta. What I love about microgreens is that you can easily create great tasting healthy food without the pain of planning out special meals or smoothies. No weird powders or extra mess. Just cut what you need or pull a small handful from a pre-cut bag and add it to whatever you're cooking already!
We offer microgreens in two purchasing methods:
1: By the Ounce. Simply call us to see what loose microgreens we have available and tell us what weight you'd like to buy. The price is dictated by the grow time.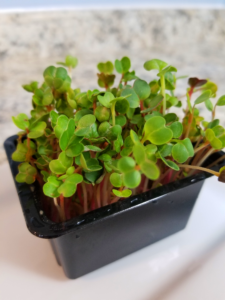 2: By the Tray. We grow our microgreens in standard hydroponic 10″x 20″ trays. We can grow two separate varieties of microgreens in a single tray provided that they have similar grow times. Ie: Radishes and Salad Mix. Trays are grown to custom order and is the best way to guarantee a supply of microgreens.
We offer the following microgreens at the following prices:
Fast Growing (1 week grow time)
$2/Ounce retail or $30/tray
Amaranth – Red Garnet
Bright red/pink in color. High protein content for a plant. Looks beautiful, and can add vegan protein to vegan dishes easily. Tastes crisp and fresh
Arugula
Broccoli
Brussels Sprouts
Fenugreek
Kale – Russian Red
Kale – Vates Blue Scotch
Kohlrabi Purple Vienna
Leek
Amazing spring onions substitute. Lots of strong leek/onion flavor.
Microgreen Salad Mix
You can use this literally anywhere where lettuce or field greens are required. A perfect high end substitute. Use it on burgers, salads, sandwiches, etc. What I love about this is that it makes salads taste unbelievably better, and with the short stems that intertwine like angel hair pasta. This intertwining makes a soft and interesting texture and an amazing blending of flavors with every bite. No more run away salad bits!
Mustard Spicy Oriental
Radish – Daikon
substantial and crunchy radishes. Pairs great with pork, soy sauce, beef, chicken and tofu.
Radish – Hong Vit
Radish Microgreen (China Rose)
Crisp, and crunchy like bean sprouts but with a medium radish flavor in the back. Perfect substitute for alfalfa sprouts. I like them in salads, sandwiches and anywhere you want to use bean sprouts.
Radish Purple
Radish Sango Purple
Red Acre Cabbage
Southern Giant Mustard
Spicy Microgreen Salad Mix
Use anywhere you would use field greens or spring mix. Very similar to our salad mix but with more spicy arugula and radish flavors.
Triton Purple Radish
Turnip
turnips taste exactly like radishes but without the spicy back that radishes have. Can be used in place of kale or spinach in salads. Medium green leaves, white stems.
Wasabi Mustard Greens
Mustard greens with a wasabi flavor. Perfect in cold spring rolls, sandwiches or with a quick stir fry. Can be used as a garnish on brisket, or beef as a substitute for horseradish.
Wheatgrass
Medium Growing 2 week grow time
$2.50/ounce Retail or $40/Tray
Basil – Red and Genovese
Micro basil tastes exactly like adult basil but super powerful.
Beet – Bulls Blood
Sweet and earthy vegetable. Would taste great paired with sauteed steak tips with mushrooms in a red wine demi glace. Color is bright fluorescent pink with medium green leaves. Amazing for plating or as a side-dish. Can be served pickled, brined, sauteed or cold.
Beet – Detroit Dark Red
Borage
Herb, strong cucumber and melon flavor with an astringent aftertaste. Light green in color. I would use this as a palate cleanser or in dishes where you need a refreshing finish. Pairs well with yogurt, ice cream, dill, lamb, beef, pork, cucumbers, tomatoes, white wine and lemon.
Buckwheat
Carrot
Cauliflower
Chives
Collard Greens
A southern food classic. Strong broccoli and other brassica flavors. Pairs well with bacon, guanciale, or pancetta. Treat like kale. Medium green leaves, and pale stems.
Dun Pea
Sweet, crunchy and super fresh. Tastes exactly like peas. Great in a cold salad or sauteed quickly. Use anywhere you'd want to use peas.
Fennel
herb, tastes like adult bulb fennel, a touch of onion and fennel flavor. Serve with pork, beef, chicken, tomatoes, mushrooms etc.
Long White Onion
Nasturtium (Empress of India)
Herb, touch sweet, touch salty, finishes with a sharp hot bite. Pink, purple stems, dark green leaves with purple tips. Very pretty. Use this anywhere you need to add a pretty garnish or an interesting spicyness.
Pak Choi (Bok Choi) Cabbage
Fresh, crisp, light, hints of cabbage, light green leaves, white almost translucent stems. Pairs well with pork, chicken, beef, tofu, mushrooms, and soy sauce.
Peas – Speckled
Sweet, crunchy and super fresh. Tastes exactly like peas. Great in a cold salad or sauteed quickly. Use anywhere you'd want to use peas.
Shiso (Green)
Herb, flavors of anise, fennel, and basil. Medium green leaves and stems. Pairs perfectly with pork, tomatoes, and cucumbers.
Sunflower Greens
Swiss Chard – Rainbow Mixture
Dark Red and yellow shoots, dark green leaves, very striking in color. Good hot or cold. Sweet and earthy in flavor.
Swiss Chard – Red
Dark Red shoots, dark green leaves, very striking in color. Good hot or cold. Sweet and earthy in flavor.